---
Deer hunters calculate the gross antler score and see what your net score is after deductions using Whitetail Deer Score Calculator.
TYPICAL WHITETAIL DEER SCORECHART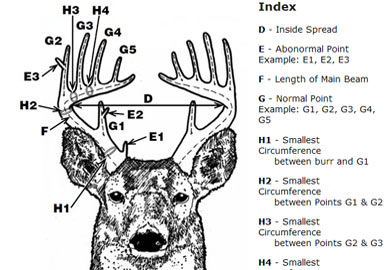 INSTRUCTIONS FOR MEASURING TYPICAL WHITETAIL AND COUES' DEER
(The Coues, is a subspecies of the white-tailed deer. Common in Arizona's southeastern mountains.)
All measurements must be made with a 1/4-inch wide flexible steel tape to the nearest one-eighth of an inch. (Note: A flexible steel cable can be used to measure points and main beams only.) Enter fractional figures in eighths, without reducing. Official measurements should not be taken until the antlers have air dried for at least 60 days after the deer was killed.