Ken Curtis Sings "My Home Town"
The Sons Of The Pioneers (Ken Curtis (Festus) Leonard Slye (Roy Rogers)
Cool Clear Water The Sons Of The Pioneers (Ken Curtis (Festus) Leonard Slye (Roy Rogers)
Gunsmoke Ken Curtis (Festus) Sings Old Trail (Gunsmoke Theme Song) CLICK HERE

The Gunsmoke Theme: "Gunsmoke Trail" The music was written by Rex Koury as thematic material, but Hollywood music publisher Max Herman saw its possibilities as a song. His friend, Glenn Spencer, supplied words for the theme. Originally published under the title "Old Trail," the song was written for the CBS radio show "Gunsmoke," which aired for the first time in the spring of 1952. When the popular radio show moved to television in 1955, the title of the theme song was changed to "Gunsmoke", lines were altered or rearranged and eighth notes were inserted to accommodate the added syllable required when the words "Old Trail" were replaced by "Gunsmoke trail." The TV show ran from 1955 to 1975. (p. 287 "For a Cowboy Has to Sing" by Jim Bob Tinsley.)
Ken Curtis History

Song of the Prodigal with Bob Nolan & the Sons of the Pioneers

"Little White Cross" (Invocation) sung by Ken Curtis (Festus) & The Sons of the Pioneers
---
FineTunedUniverse.com ThisWasYourLife.org Powerful Salvation Message
---
---
Gunsmoke Radio Show The Guitar Dec 26, 1953 This show was redone and Bill Rains did all the characters voices, matt dillion, chester, doc, short, tyler, pendle and sam. (This show is sponsored by Aunt Jemima.)

Short and Tiler think that Marshal Matt Dillon is out of town and decide to hang a yank named Pendle for a bit of fun. However Matt turns up and puts a stop to it. Pendle is actually from Texas but even so joined the Union army but only did what he was told to do. Now the war long over he was simply a wanderer with his guitar but Matt fears that Short and Tiler are mean enough to kill him.
The Guitar Dec 26 1953 Radio Script (Follow Along)
---
Gunsmoke Radio Show (Crack Up) This show was redone and Bill Rains did the character voice of chester.
In the episode entitled "Crack Up" a known killer named Nate Springer, comes to Dodge specifically to do away with Dillon. After much planning and plotting, when the smoke clears from the climactic gun battle, it is Springer sprawled in the dust as the victorious Dillon reholsters his trusty weapon ("Crack-Up." 02-26-55).
---
"Gunsmoke...starring William Conrad. The story of the violence that moved west with young America. The story of U.S. Marshal Matt Dillion, Dodge City and the territory on west. There is just one way to handle the killers and spoilers, and that's with the U.S. Marshal...and Gunsmoke!"
---
---
Gunsmoke: Radio's Last Great Dramatic Series (1952-1961)
---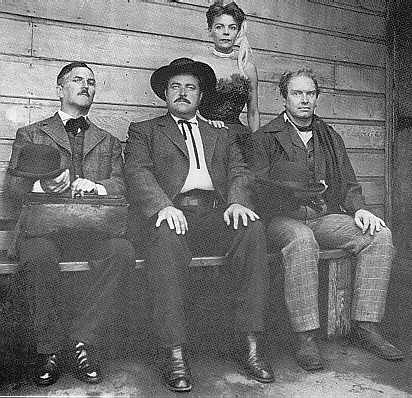 A publicity photo by fellow actor, Harry Bartell, of the radio cast in western costumes Howard McNear (Doc), William Conrad (Marshall Dillon), Parley Baer (Chester) Georgia Ellis (Kitty)